Inspection Checklist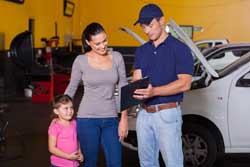 When you bring your car, SUV or pickup truck in for service or repairs at Performance Unlimited, it's not enough just to perform the requested service; we also have a responsibility to ensure that, when you leave, your vehicle is as safe and reliable as possible. Our goal is to ensure that you are an informed car owner. This is the basis for the 24-Point Courtesy Inspection we perform on each car we service, whether you simply come in for an oil change or something more involved.
With our 24-Point Courtesy Inspection, we look your car, SUV or pickup truck over from top to bottom and inside and out. Inside the car, we check everything from your wipers and washers to the headlight, turn signals, brake signals and cabin air filter. Under the hood, we check all the fluids, the belts, filters, battery and fan.
We then move under the car, where we look at the tires, brakes, suspension, exhaust and more. Then we take your vehicle out for a Road Test. We look at the chassis and alignment. We test the brakes, shifting and steering. We check the parking brake and we test the vehicle's performance – engine cranking, acceleration and more.
Finally, we take the time to explain to you, in laymen's terms, anything we find. When you drive out of our auto repair shop, we want you to drive away with confidence knowing your vehicle will safely take you where you want to go.
Check engine oil & filter.
Inspect wiper inserts.
Check air filter.
Inspect P.C.V.
Check transmission fluid level & condition.
Inspect belts for cracking, fraying & wear.
Check engine coolant level & condition, (rusted, weak)
Inspect condition of radiator hoses & heater hoses.
Inspect for coolant leaks, radiator, surge tank & water pump.
Inspect windshield washer operation & fluid level.
Test operation of turn signals, brake lights, headlights & taillights.
Check brake pedal for proper travel.
Inspect operation of air conditioning & heating system.
Inspect brake pads & shoes for wear and/or contamination.
Inspect brake hydraulic system, (master cylinder level & signs of leakage)
Test emergency brake adjustment.
Inspect C.V. boots, (front wheel drive cars)
Visual check of shock absorbers/struts.
Inspect condition of exhaust system.
Visually inspect undercarriage/check for signs of leakage/damage.
Inspect tires for proper inflation & wear patterns.
Visually inspect gas tank for leaks.
Visually inspect oil pan for leaks.
Check battery.