TIRES
Bridgestone Drive Guard tires:
DRIVE UP TO 50 MILES TO S-A-F-E-T-Y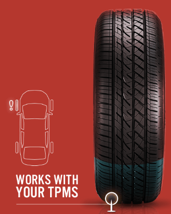 S
mooth, Quiet Ride: Lightweight construction, Nano-ProTech sidewalls, and a finely-tuned tread pattern provide the ride quality expected in a premium touring tire.
A
ffordably priced: priced comparatively with conventional tires.
F
ifty to Sixty thousand: 60,000 mile Limited Treadwear Warranty for H and V speed-rated tires, and a 50,000 mile Limited Treadwear Warranty for W speed-rated tires.
E
xtended Mobility: Drive up to 50 miles at up to 50 MPH after complete air loss.
T
ouring Tire: Designed for cars originally fitted with conventional tires.
Y
ear-around all season traction: An asymmetrical tread pattern and a tread compound shared with Bridgestone's Turanza Serenity Plus provide confident traction in all weather and all seasons.
AFTER A PUNCTURE Repairability of DriveGuard tires depends on the tire damage, amount of pressure loss, and vehicle operating conditions. Contact a Bridgestone retailer for details.
CAN TAKE A PUNCH
DriveGuard tires are specifically engineered to be able to take a puncture and keep you moving. Their supportive and tough reinforced sidewalls help ensure your mobility for up to 50 miles at speeds up to 50 MPH.
STAYS COOL UNDER PRESSURE
Thanks to our proprietary patented high-tech cooling fin design and reinforced sidewall rubber, DriveGuard tires redistribute heat and friction after a puncture, so you can keep driving up to 50 miles even after complete loss of air pressure.
CONFIDENT YET COMFORTABLE
With DriveGuard, there's no need to sacrifice ride comfort for peace of mind. Lightweight construction and a unique all-season tread pattern work together to provide ride comfort, confident wet traction, and responsive steering control.
SPEAKS YOUR CAR'S LANGUAGE
DriveGuard tires are designed for vehicles equipped with a Tire Pressure Monitoring System (TPMS). So when the indicator on your dashboard lights up, you should stop and check your tire pressure and if tire service is needed, go to a convenient location as soon as possible.
PROTECTION WHEN IT COUNTS
Every DriveGuard tire comes complete with the DriveGuard Protection Package – one of the most comprehensive warranty packages in the business – so you know you're choosing a tire that has you covered when it matters most.
For Tire Pricing Call
815-728-0343
---