REMOTE STARTERS
Remote Start with Keyless Entry

Get the convenience of remote start with the smallest-size remotes ever. Perfect for use with OEM keyless remotes integrated into the factory key. Long range remote start in a tiny package!
Extreme capacity remote start relays are built-in to remote start systems.
A dedicated A-to-D converter samples your vehicle's voltage hundreds of times each second, eliminating the need for a tachometer wire connection.
Superhet receiver for great range
Two remotes with dedicated AUX outputs
Lock, Unlock, Trunk Release, and Remote Start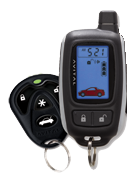 Our best 1-way security and remote start system will start your car with the push of a button from up to 1,500 feet away, and help protect it from thieves and vandals with the included Zone-2 Impact sensor (which detects blows or impacts to the vehicle), the siren which will loudly alert you when the impact sensor has triggered – and the Fault-proof starter interrupt, which is designed to prevent "hot-wiring" your vehicle.
Our top-of-the-line security system will arm or disarm your system with the push of a button from up to 1,500 feet away – and confirm all your commands on the large LCD screen of the 2-way remote. If your siren sounds, the remote will beep or vibrate to let you know, from up to 1,500 feet away. System comes with one 2-way and one 4-button 1-way remote.
Keyless Entry System

Add the convenience of keyless entry to virtually any vehicle - even vehicles without power door locks!* The keyless entry system offers a wide variety of convenience features.
Two remotes with dedicated Lock and Unlock buttons
Lock, Unlock, Trunk Release, and AUX
Door lock relays onboard
Nationwide Service

If you have an issue with your system, call a toll-free number anytime, even when traveling.